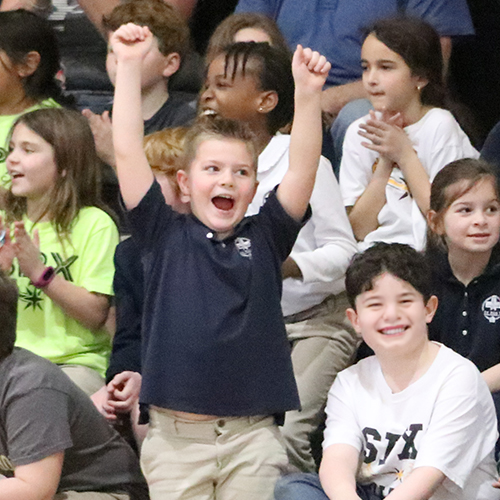 Developing a lifelong love of learning

In kindergarten through the fifth grade, we focus on creating a strong foundation for each student's educational journey.
All St. Pius X teachers are committed to fostering a love of learning and delivering engaging academic instruction in a supportive and nurturing environment. Small class sizes and leveled, small-group instruction for reading and math set our elementary school experience apart.
Reading and Writing
In kindergarten through second grade, our students learn reading, writing, grammar, and spelling using the Superkids program, which is a fully integrated literacy program. Third through fifth graders explore literature through literature circles and novel units in the Journeys curriculum. They progress from writing single paragraphs to writing multi-paragraph essays. Students are encouraged to grow as independent readers via books of their choosing and teacher selected book choices. Fourth and fifth graders can join our elementary Battle of the Books team.
Math
Our elementary math program develops students' abilities to become creative and critical thinkers, while promoting the understanding and enjoyment of mathematics. Hands-on activities and lessons show students that math is a part of our everyday life. Kindergarten through second grade use the Into Math curriculum, while third through fifth grades use Sadlier Math. Beginning in the third grade, our teachers begin to supplement the curriculum with online math programs such as Prodigy and ALEKS. In the fifth grade, students begin to experience smaller, leveled math classes.
Science
Our science program builds knowledge and confidence with hands-on experiences and opportunities. From exploratory tables in pre-K to hands-on experiments in our STEM lab, teachers utilize a variety of developmentally appropriate projects to create an exciting atmosphere around science. Through the Fusion Science program, our teachers help students to develop their own questions and then determine the answers creatively and logically.
Social studies
At St. Pius X, social studies includes history, civics, economics, and geography through the My World curriculum. Our teachers tie the social sciences to the real world through field trips and guest visitors to help students develop a broader understanding of the world around them.
Religion
As a Catholic school, we are rooted firmly in helping children to experience the wonder of God's creation. Beginning in kindergarten, students dress for and attend Mass weekly. They participate in and plan stewardship activities to donate their time, talent, and treasure to help others. Our students learn the stories of the saints and celebrate them on their feast days. Students are assigned a prayer buddy from another grade, with whom they meet monthly. Second graders prepare for the sacraments of First Reconciliation and First Holy Communion. Beginning in the third grade, our students prepare for and participate in our weekly student Mass, while fourth graders may train as altar servers.
Technology
Technology plays an age-appropriate role in our curriculum, which increases as students matriculate through the grades. We use technology to expand their learning opportunities and encourage problem-solving and collaboration.
Specials
Every week students have Spanish (2x/week), Library, Computer/Technology (beginning in the second grade), Art, Music, and PE.