6th - 8th Grades
Learners Today, Leaders Tomorrow
Middle School is a time of unique social and educational development. Our Middle School teachers are devoted solely to our Middle School students and are subject-matter experts, supporting our students as they advance deeper into subjects.
St. Pius students graduate the eighth grade with a clear picture of their strengths and challenges and the strategies, both academic and personal, to employ for success.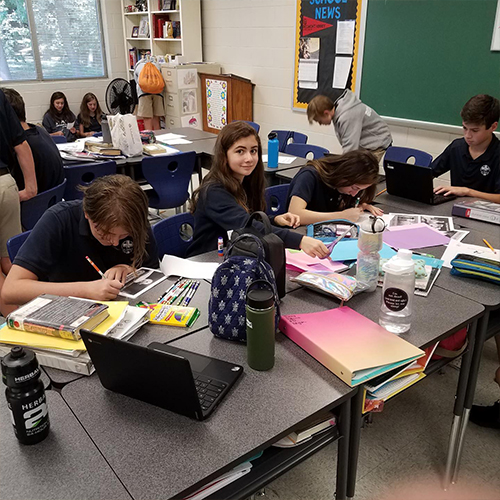 Language Arts
The St. Pius language arts curriculum continues the development of reading and comprehension skills, with a strong emphasis on developing writing skills. Middle School instruction is focused on comprehension and critical-thinking. Writing is taught as a process, building upon the skills learned in previous grades.
Math
As students progress through our mathematics curriculum, we continue to move students at a pace that challenges them while mastering concepts successfully and preparing them for higher-level math courses. A level of basic math facts mastery allows students to focus on independent and higher-level problem solving. An advanced math track begins in the fifth grade.
Science
Middle School students utilize hands-on science that promotes critical thinking and creative problem-solving.
Social Science
At St. Pius, the social sciences include history, civics, economics, and geography. Whenever possible, our teachers tie the social sciences to the real world to help students develop a broader understanding of the world around them.
Religion
St. Pius X is a Catholic school, and we are rooted firmly in helping children experience the wonder of God's creation. Students attend mass weekly and are paired with Prayer Buddies from the elementary school.
Specials
Every week students have Spanish, Information and Research, Computer, Art, Music, PE, and Guidance lessons.
Language Lab
Beginning in the 6th grade, middle school students are able to select their language of study. Currently, St. Pius X offers the following languages: Spanish (traditional classroom instruction), Latin, French, German, Italian, Portuguese (Brasil), Filipino (Tagalog), Russian, and American Sign Language (ASL). Students who select a language of study other than Spanish will report to the Language Lab at the time they would otherwise be taking Spanish, 3 days per week.
Click here for more information about the Language Lab.