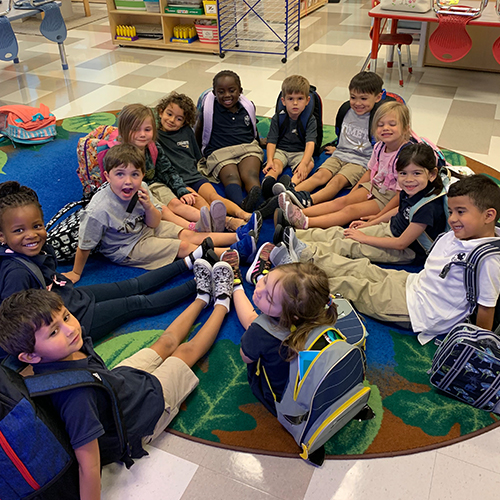 Curriculum
Our Pre-K program implements a theme-based curriculum. It is designed to facilitate learning through hands-on activities both teacher-led and student-led. We offer lessons and activities in the areas of literacy, language, math, science, social studies, creative arts, gross and fine motor and social skills (character education), as well as the age-appropriate integration of technology. Our standards are based on the North Carolina Foundations Curriculum and are aligned with the Kindergarten curriculum. Faith education is also integrated into all we do at St. Pius X Catholic School. PreK classes participate in weekly PreK Chapel services directly after the student Masses on Tuesdays. We know that children learn best through play and experiences. We firmly believe that children learn by doing, getting messy, investigating their questions and problem solving with their friends. They learn by playing games, using their imaginations, expressing their emotions, creating and exploring the world around them. As teachers, we set up intentional play activities and explorations that meet the needs of individual students. We question and extend their thinking within play to help them learn and grow. Guided small group lessons in literacy, math, and writing allow students to get individual attention to their learning styles and interests. We provide high quality instruction and care for every student who comes into our classroom.
Behavior Management
We are committed to providing a safe environment for learning. Universal support strategies are available to all students to support their social emotional development by teaching expected behaviors (ex: visual supports, reteaching, class meetings, etc.) and teaching various social skills (sharing, taking turns, problem solving) all year long. We strive to provide a consistent and engaging learning environment with physical activity which will prevent boredom and promote good behavior.
Age Appropriate Differentiation
Our PreK classes at St. Pius X Catholic school are strategically organized to best meet the needs of our developing students. Our 3-4 Class is designed for the developing needs of children ages 3 to 4 years old, whereas our 4-5 Class provides more challenge as it is designed for children 4 to 5 years old. When students enter our program early, at 3 years of age, these tiered classes allow students to complete two years in our PreK program, so that the curriculum can be scaffolded to meet students' developing needs as they grow and develop academically, socially, emotionally, and physically.
Culture and Fine Arts
In addition to the rich curriculum within the classroom, PreK students at St. Pius X Catholic School receive education in the areas of Spanish, music, art, physical education, and media services. Specials' classes are held on a rotating schedule. PreK students will also have enrichment opportunities in the form of weekly PreK Chapel services, Creacher Teacher, Historica Trunk presentations, Pet Partners, and educational field trips.
If a child is losing self-control or not making the best choice at that moment, he/she will be asked to go to a designated place in the classroom to take a break or cool off. The break is short and the child can rejoin the group when he/she has regained control and is ready to participate or resolve a conflict situation. Children may voluntarily "take a break" if they feel the need.
If a child misuses a material or acts out negatively during an activity, he/she will be told to stop using the material or doing the activity for a period of time. The privilege will be restored when the child and teacher have talked about how to prevent a similar problem in the future and the child has demonstrated positive changes in behavior. Another example may be if a child is acting out of control while walking in line—we may practice better choices walking in line during center time.
If a child damages something or hurts another's feelings, he/she will try to fix the damage. In the case of hurting another's feelings, the child may offer an apology of action—writing a card, helping with an activity, making an illustration, participating in an activity with that friend, or taking some other action beyond verbally saying sorry.
When necessary, a child will reflect on better behavior choices by drawing a picture to accompany a teacher's note home to parents. This is another way for the child to take ownership of his/her actions and be a part of the communication home to parents.
We will all sign a large classroom copy of the rules to be posted in the classroom so that we can refer to them regularly. We explain that by signing, each child agrees to do his/her best to follow our rules. We will give a child a reminder of our rules and the behavior that needs to change, but then we expect the child to do his/her part by putting forth the effort to make a positive change. Our goal is to help children believe in their ability to create a learning environment of care and respect. Learning to live by the rules that they helped create is an important step.
Enrichment
From Spanish, to Art and PE class, Pre-K does it all! Our littlest Comets are part of the biggest and best parts of our school, as well as some special activities just for them, like The Creature Teacher.