St. Pius Pre-K students have a sense of belonging and pride in being a Comet.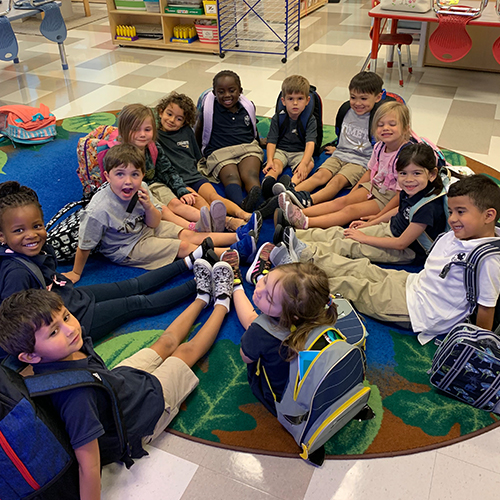 We give our youngest students the time and space to discover the joy of learning, enabling them to reveal their strengths, passions, and the person they are becoming. We recognize and celebrate the individual, encouraging pride in what they can do, as well as an ambition for what they can't do just yet.
We believe that childhood is a time to explore. Our students take a passionate interest in the world around them and are prepared to take risks in everything they do.
Building Classroom Community in Pre-K
As a way of building a classroom community, we will be creating a set of expectations with the children during the first couple weeks of school. To help them understand the importance of rules in our world, we will first read some fun stories that illustrate this. We will then brainstorm a list of rules as a class and condense the list to several that will be easy to remember.
As teachers, we stress how these rules will help us have lots of fun learning experiences together as a class and help us to be respectful to each other and to our school. After we create our set of rules, we will share them with you at home. We recognize that no one can be expected to follow the rules 100% of the time. When children make mistakes in following the rules, we'll help them solve the problems caused by their actions through the use of logical/natural consequences. Logical/natural consequences are not punishments. They are a way to help children see the effects of their actions on others and their environment, repair the situations, and learn to do better next time.
tHE PRE-K rULES
If a child is losing self-control or not making the best choice at that moment, he/she will be asked to go to a designated place in the classroom to take a break or cool off. The break is short and the child can rejoin the group when he/she has regained control and is ready to participate or resolve a conflict situation. Children may voluntarily "take a break" if they feel the need.
If a child misuses a material or acts out negatively during an activity, he/she will be told to stop using the material or doing the activity for a period of time. The privilege will be restored when the child and teacher have talked about how to prevent a similar problem in the future and the child has demonstrated positive changes in behavior. Another example may be if a child is acting out of control while walking in line—we may practice better choices walking in line during center time.
If a child damages something or hurts another's feelings, he/she will try to fix the damage. In the case of hurting another's feelings, the child may offer an apology of action—writing a card, helping with an activity, making an illustration, participating in an activity with that friend, or taking some other action beyond verbally saying sorry.
When necessary, a child will reflect on better behavior choices by drawing a picture to accompany a teacher's note home to parents. This is another way for the child to take ownership of his/her actions and be a part of the communication home to parents.
We will all sign a large classroom copy of the rules to be posted in the classroom so that we can refer to them regularly. We explain that by signing, each child agrees to do his/her best to follow our rules. We will give a child a reminder of our rules and the behavior that needs to change, but then we expect the child to do his/her part by putting forth the effort to make a positive change. Our goal is to help children believe in their ability to create a learning environment of care and respect. Learning to live by the rules that they helped create is an important step.
Enrichment
From Spanish, to Art and PE class, Pre-K does it all! Our littlest Comets are part of the biggest and best parts of our school, as well as some special activities just for them, like The Creature Teacher.