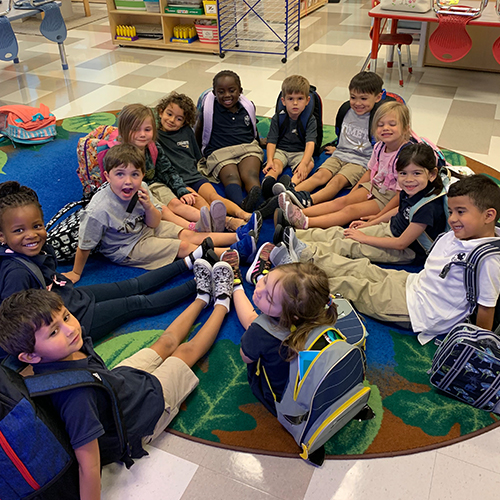 Our program
Our Pre-K program implements a theme-based curriculum. It is designed to facilitate learning through hands-on activities, both teacher- and student-led. We offer lessons and activities in the areas of literacy, language, math, science, social studies, creative arts, gross and fine motor skills, and social skills (character education), as well as the age-appropriate integration of technology. Faith education is also integrated into all we do at St. Pius X Catholic School. Our standards are based on the North Carolina Foundations Curriculum and are aligned with our Kindergarten curriculum.
We know that children learn best through play and experience. We firmly believe that children learn by doing, getting messy, and investigating their questions and problem solving with their friends. They learn by playing games, using their imaginations, expressing their emotions, creating, and exploring the world around them. Our teachers set up intentional play activities and explorations that meet the needs of individual students. We question them and extend their thinking within play to help them learn and grow. Guided small-group lessons in early literacy, math, and writing allow students to receive individual attention to their learning styles and interests. We provide high-quality instruction and care for every student who comes into our classrooms.
We have two pre-K classrooms. Enrollment is capped at 16 students per class, and each class has both a teacher and a full-time instructional assistant. In addition to the rich learning environment in the classroom, pre-K students at St. Pius X Catholic School receive instruction in Spanish, American Sign Language, music, and physical education. They go to our library weekly and may check out books to take back to their classroom.