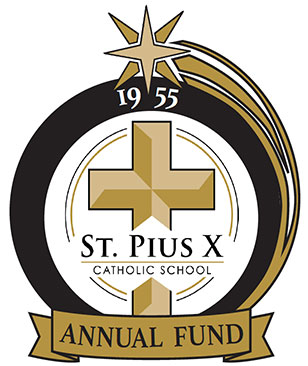 What Is Annual Fund Giving?
The Annual Fund is the key component of the advancement program at any nonpublic school, particularly for a Catholic school that depends upon the generosity of so many people. The Annual Fund helps to bridge the gap between tuition and actual costs so that we can fund exciting new initiatives for our students. Your annual contribution helps raise the necessary funds for needs not covered in the school's operating budget.
Why Is Annual Giving Necessary?
Currently, tuition does not cover the full cost of educating a student at our school, so the support of our benefactors is crucial to maintain the level of excellence that we all expect and to provide our students with enrichment experiences that extend far beyond academics. With your support, we can continue to educate and nurture the over 450 students here at St. Pius X Catholic School. Your gift proclaims to all that you support the vision and mission of St. Pius X Catholic School and that you want our school to realize all of its potential. We are truly thankful for your support of St. Pius X Catholic School!
Why Not Just Raise Tuition?
It is necessary at times to raise tuition because salaries need to increase in order to keep the well-trained, caring, and passionate teachers and staff that we have, and because the cost of the daily operation of our buildings rises yearly. However, significant tuition increases would turn us into a school only for those who can afford it. Our goal is to be a school that provides an affordable Catholic education for all who want it. The Annual Fund broadens our base of support for St. Pius X Catholic School, strengthening our foundation and ensuring that we will be able to provide a quality Catholic education for another 60+ years.
Who Is Being Asked to Participate?
The entire St. Pius X Catholic School and Parish family is being asked to support our Annual Fund – the SPX school board, administrators, faculty, staff, parents, grandparents, alumni, parents of alumni, SPX parishioners, friends, the business community, and anyone who believes that having a strong, vibrant, Catholic educational choice is an asset to the entire area. Your support is truly valued and appreciated.
How Can I Give?
There are many ways in which you can support St. Pius X Catholic School and make a difference the lives of our students. As a 501c3 nonprofit organization, St. Pius X Catholic School is exempt from federal income tax. Contributions to the school from individuals, foundations, corporations, and other organizations qualify as tax-deductible charitable gifts. You may support our students with a one-time gift, or you may become a regular donor, ensuring that every student is given the opportunity to enjoy a Catholic education of the highest quality. Other ways of giving include the following:
Memorial Gift – Honor the memory of a loved one by making a donation in their name to St. Pius X Catholic School. We will send a notification of your gift at your request. Establishing a family endowment fund can be an extremely meaningful way to remember a loved one. Such an endowment would assist future generations of St. Pius X Catholic School students and make a Catholic education possible for deserving young people who otherwise may not be able to attend.
Honor Gift – Similar to a memorial gift, an honor gift celebrates a loved one, an accomplishment, or a special occasion. Again, we will send a notification of your gift.
Corporate Matching Gifts – Many companies will match their employees' gifts to nonprofit organizations as an employee benefit. Please check with your employer about their matching gift program and forward the form along with your gift to St. Pius X Catholic School. Our Advancement Office will do the rest!
Planned Giving – An effective way to ensure that the ideals that you value will be continued at St. Pius X Catholic School may be to remember SPX in your will and estate planning. Such a gift can also reduce the taxable portion of your estate. Legal or financial advisors can best help you determine the gift most appropriate and advantageous to you.
Gifts may be made by cash, check (made payable to St. Pius X Catholic School), credit card, electronic funds transfer, or stocks/securities. Call our Advancement Office at (336) 273-9865, and we will arrange the most convenient way for you to make your gift.
What Are Other Ways in Which I Can Give?
Endowments
St. Pius X Catholic School is fortunate to have several endowed funds that have been generously established by the families of alumni of our school, parishioners, and families of parishioners to proved tuition assistance to our students:
St. Pius X Catholic School Endowment Fund
The Katelyn Mitchell Student Athlete Scholarship Fund: Is awarded to a 6th- or 7th-grade student athlete to honor the memory of St. Pius X alumna Katelyn Mitchell.
Victor M. Nussbaum, Jr., Educational Endowment Fund: To honor the memory of Victor M. Nussbaum, Jr., former mayor of Greensboro.
Roger Kavanagh Tuition Assistance Endowment Fund: Students who are St. Pius X Catholic Church parishioners, to honor the memory of Roger Kavanagh, a long-time St. Pius X parishioner.
Ambassador Aldona Z. Wos and Louis DeJoy Endowment Fund
St. Mary's Catholic Church Scholarship Endowment Fund: For SPX students who are parishioners of St. Mary's Catholic Church
Gifts-in-Kind
St. Pius X Catholic school appreciates the donation of goods or services to the school, for which the school is not billed and which are tax-deductible for the donor.
The Gift of Time
We are fortunate at SPX to have many parent, grandparent, and parish volunteers who augment our students' daily school experiences in a variety of ways. From the cafeteria to the art room, from the sports field to the classroom, our students benefit from the caring expertise of our volunteers.
On behalf of the students, faculty, staff, and administration at St. Pius X Catholic School, we thank you for your ongoing support!